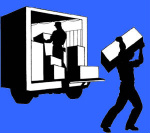 Hello,
Need help moving, loading, unloading, packing, or unpacking.
From or to storage, houses, apartments, buildings.
Rates: 3 hours minimum
1 man crew- $25/hr
2 man crew- $45/hr
3 man crew- $65/hr
I'm young, energetic, trust-worthy, hard-working, dependable, friendly, and have experienced doing this on and off for the past 3 years.
I'm also a non-smoker!
I'm always on time for jobs, and I never cancel or quit jobs!
I have great references!
Hours of availability: 7 days a week- Mondays through Fridays from 12am-10pm, earlier sometimes- Saturdays and Sundays from 7am-11pm
* 20% Discount for senior citizens and disable!*
I drive a jeep and can provide some tools and equipment.
So you rent the trunk and I can fill it and unload it!

You can reach me at:
Email- kswboy123@yahoo.com
Cell- (315)281-3665 text/call

Leave a message/ voicemail with your name, number, and work description.
I will get back to you ASAP if you can't reach me right away!
Thank you for your time,
-Kyle