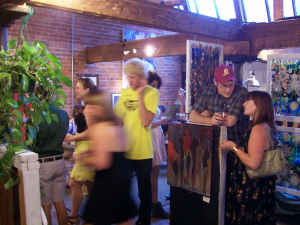 HEY ARTISTS!
Borough Gallery & Studio, located at 180 Flynn Avenue in Burlington's South End, is opening a Call To Artists for their upcoming group exhibition focusing on the concept of "home" and what it means through the artist's eyes. The Exhibition will open on November 8th with live music and featured artists from VT, NY, and PA, and will remain on display through the month of November.
This exhibition follows our wildly successful "BRIGHT YOUNG THINGS!" show, held in August. The idea of "home" centers around these ideas:
Artists are incredibly curious creatures by nature; constantly looking within, through, under, and in-between their surroundings and situations…this show will focus on "home" and what it means to the artist; whether it's work that reflects their nomadic lifestyle in search of feeding their inspiration (in which case maybe "home" is wherever their inspiration lies), a deeper view into their actual home (architectural/environmental/cultural) and surroundings and everyday life, or a reflection of the emotions that come to represent what "home" means. I think this will make for a very intriguing show, and we're very excited about it! It kind of comes does to this: Home: what is it?
Interested artists should send images and a brief description of their work to boroughgallery@gmail.com, and for more info go to www.boroughgallery.wordpress.com
BOROUGH NOW HAS EXTRA STUDIO SPACE FOR RENT, AS WELL! STARTING NOVEMBER 1ST! Please contact us for more info!